Engineering the Stacks: Georgia Tech Library's New Digital Experience
Project Highlights
Georgia Tech (Georgia Institute of Technology) is one of the top research universities in the USA. As a digital-first institution, its "Library Next" initiative is dedicated to evolving library services to meet the changing needs of the university community. A robust web presence is paramount in creating an innovative, engaging and easy to use virtual "front door" for the Library. Most of the Library's business is online and the web design needs to reflect the intellectual space that the Library represents. It needs to compliment the physical and be a state-of-the-art representation of online research and learning.

Georgia Tech partnered with Mediacurrent to connect the university community to the library's many resources. With a transformed Drupal 8 website that includes intuitive design and smart search solutions, what's next for the library is right now.
Results
1st department on campus to adopt Drupal 8 
W³ Website Awards: Silver Award for 'Best Website Features-User Interface'
DrupalCon Seattle Splash Awards: Nominee for 'Outstanding Drupal Education Site'

The team of Drupal experts that we had working on our project was invaluable. You can tell that Mediacurrent really knows what they're doing and devotes the individual experts and the time needed to accomplish these large scale projects.

Heather Jeffcoat

Web & Discovery Management Librarian, Georgia Tech Library
Why Drupal 8? 
Open source software has been widely adopted at Georgia Tech 
Drupal's open source technology (no licensing fees) is cost-effective
A highly secure platform protects student information
Flexible authoring experience
Mobile-first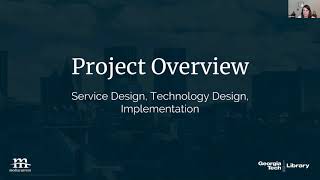 Webinar
Engineering the Stacks
Learn more about Mediacurrent's approach and how we collaborated with Library stakeholders in our webinar.
The Challenge
A new, modern space for Georgia Tech's brick-and-mortar library was underway. More than a new library website, the Library IT team envisioned a "digital companion" on par with the high service level of its newly reimagined space. The Library site has a big job to do. Averaging more than four million downloads a year from thirty-five thousand databases, the previously static website was stretched to its limit. An analysis of user personas uncovered gaps in user experience including accessibility, mobile, and search. 
As a rather monumental upgrade for the Library, several key design-related requirements were established from the outset– mobile friendly, simplified navigation, a reworked search function, a clean homepage design, and alignment with the Institute's new visual brand standards.  Mediacurrent's challenge was to transform a dated design and hard-coded HTML/PHP website into a modern, top-shelf Drupal platform.
Mediacurrent's Solution
Mediacurrent built a Drupal 8 framework and theme with optimal information architecture to provide best-in-class structure, navigation, and user paths. Along with delivering Drupal as a content management system, we also designed and implemented a new look and feel for the site using modern design best practices and conforming to the university's branding requirements. What materialized throughout our engagement was an exciting partnership that resulted in a highly performant and accessible experience that caters directly to specific user groups. Our Agile design approach kept pace with consistent feedback throughout an in-progress brand refresh.
Design
Mediacurrent's experience in the higher ed space has given our team insight into how to fully harness the power of open source Drupal while meeting the needs of stakeholders campus wide. For Georgia Tech Library, we synthesized their persona research, connecting the dots of user journeys.
To prepare our designs, we reviewed a number of peer sites that included functionality we were looking to build and sites addressed similar UX challenges. Easy-to-use tools for reserving study spaces, minimalist design, and succinct navigation were all points of inspiration. 
Navigation
Flexible Design
Super Search
Methods for Prototyping 
Mediacurrent provided wireframes and design mockups using our cloud-based prototyping tool, InVision. This tool allowed Georgia Tech Library to provide feedback in the cloud for review. It also featured live tour points that indicate user stories, conversion paths, and user flows in a live prototype environment. A style guide was produced to show a preview of how users will experience live pages. 
Component-Based Design 
Mediacurrent's design process followed a modern component-based approach.Throughout the design phase of the project, we used pillar pages (key pages along the user journey such as the homepage and persona landing pages) as a means to create a system of flexible, reusable components.These components could not only be used to construct these specific pages but could also be used to build out all of the other pages and content that would be added over time.
Navigation
We started addressing the main navigation by generating an Information Architecture then applied that to wireframes and mockups using Sketch. In terms of components, a site's header and main navigation are one of the most reusable components and is an important one to get nailed down early on. This process allowed us to settle on 4 main sections of the site and distill the number and names of items included in each of those sections to the most meaningful and helpful pages of the site. Given the information overload of the previous site, this was a true exercise in pruning and compromising.
Drupal Development
Top Modules
CAS Module - Provides single-sign-on capabilities.
YAML Content - This module allows us to programmatically create content, which is great for testing and development.
Search API, Search API Solr - Apache Solr powers the library website search.
Guardr​ (Contrib) - Guardr is a Drupal distribution with a combination of modules and settings to enhance a Drupal application's security and availability to meet enterprise security requirements.
Mediacurrent Rain​

The Mediacurrent Rain install profile adds out-of-the-box editorial, administrative and media enhancements to the typical Drupal 8 installation. It also has many optional modules which can provide additional content features and site configuration. 
Article​ Feature ​- Adds article content type with social media integration.
Event Feature​ - Adds a content type to create events complete with a date field.
Page​ Feature​ - Adds a content type to create basic pages for static content, such as an About us page.
Paragraphs Feature​ - Provides common fundamental paragraph types such as "Text", "Media", "Gallery", and "Promo".
Spotlight Features​ - Provides a Spotlight paragraph type for promoting content.
Tags​ Feature​ - Adds free tags taxonomy.
Views​ Feature​ - Adds a paragraph type to gives editors the ability to reference a Views block. A "recent content" view is provided by default.
Development Highlights
A comprehensive functional specification was key to managing scope. The document outlined the features, functions, technology, and deliverables that could realistically be implemented within the project's budget and timeline. This ensured that the launch timeline matched up with the grand opening of the new library space.
Fast-Track to Drupal 8 
Powerful Authoring
Single Sign-On
Accessibility
We build our site components in an accessible way by default. For this project, Section 508 compliance was a key focus, including ongoing accessibility testing such as MacVoiceover and JAWS, ensuring keyboard only navigation, form labels, and appropriate alt tags for media.
Super Search
Library websites have a unique challenge: when a visitor searches, the site must determine whether the user is looking for something in the library website itself (like a staff profile), or whether they really want to see results from one of the library's many collections. For Georgia Tech Library, we opted for a paneled "Bento" search interface that shows the user a preview of the same search against multiple search backends.
If a user knows they want to search the library website, they can use a dropdown selector to indicate that and go directly to those results. However, the benefit of the "Bento" search strategy is that by default, it takes this burden of choice away from the user.
We used the React JavaScript framework to develop this component, and positioned it inside a normal Drupal page - a methodology often referred to as "progressive decoupling."
Final Thoughts
Georgia Tech and Mediacurrent launched a highly-customizable, performant, and accessible digital experience. The new site puts the Library in a leadership position among their peers as the first university department on campus to adopt Drupal 8.