CASE STUDY
Brand USA Inspires Adventure
Project Highlights
Brand USA, the USA's official travel and tourism organization, redesigned its primary website VisitTheUSA.com in 2016 with Mediacurrent as a contributing agency. The Drupal 8-based platform encompasses 15 websites in 8 languages that are geo-targeted around the world.

Brand USA's mission to promote the economic and social benefits of U.S travel didn't end after launch. They partnered with Mediacurrent for full-service digital support to continue evolving the platform.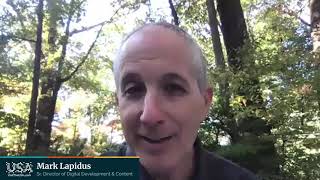 Video
A United Partnership
Hear what Mark Lapidus, Sr. Director, Digital & Content Development at Brand USA, has to say about partnering with Mediacurrent on the United Stories campaign as well as other ways in which the agency has created value by improving site performance, SEO, and how brand assets are managed within the site's Drupal interface.
The Challenge
Brand USA faced the challenge of staying up-to-speed on Drupal technology trends, new features, and security issues. They also needed to sustain the success of the website as a marketing vehicle. For example, Brand USA uses a massive number of beautiful images to capture stories of travel adventures. This makes it especially important for the site to be optimized for speed and performance. At the same time, they anticipated the need for new digital campaigns to continue reaching international audiences, across multiple languages.
Mediacurrent 'walks the walk' as a digital agency partner by delivering results on time and on budget. They bring a broad range of development expertise and creative resources to help us build the future of U.S. tourism.

Mark Lapidus

Sr. Director, Digital & Content Development, Brand USA
Mediacurrent's Solution
With Mediacurrent's support, Brand USA optimized its Drupal platform to be fast, flexible, and far-reaching to engage global audiences.
DRUPAL
Performance and Optimization
A performance solution was built for Brand USA's unique scale and complexity. CloudFlare page caching was enabled to speed up the site. Reducing page load calls helped to shrink the budget for dynamic interactive maps (Google Maps Platform) that display U.S. travel spots.
United Stories
International travelers crave local experiences. The United Stories campaign achieves just that with a welcoming space to explore local destinations. Mediacurrent developers repurposed the main site's Drupal theme and paragraphs to create a fresh look for the campaign landing page.
A clean minimalist design with full-screen travel photos sparks a sense of adventure. Users are invited to discover unique travel spots coast to coast through an interactive map. Brand USA's site builders benefit from a highly usable component-based system tailored to their editorial workflow.
Let's Go There
When it's time for you, we'll be ready.

That's the message behind the Let's Go There campaign, encouraging Americans to plan ahead for travel experiences when it's safe to do so amid COVID-19. The U.S. Travel Association, which lobbies on behalf of Brand USA, initiated the campaign. Mediacurrent developed a subsite to share content from VisitTheUsa.com with the U.S. Travel Association's distinct brand image.
Acquia
Live Search
When the appetite for adventure strikes, site visitors can expect travel options at their fingertips. Now, search results across the site appear instantly with a custom-configured Solr search. Drupal Search API and Acquia Search modules combine with custom endpoints the site can then access through JavaScript.
Final Thoughts
Brand USA's digital experience is made, literally, of many user journeys. With a Drupal platform designed and tuned for optimal performance, prospective travelers can find the path to their next adventure.