Sessions
Training: Component-Based Development with Drupal
Best practices and standards are at the core of this course. This means you will be exposed to the latest trends, processes, and tools used on today's web development to build responsive, accessible, and component-driven Drupal websites. Can't make it to the first workshop? We'll be running two! Don't miss the opportunity to dive into this hands-on training and coding experience.
How Penn State News Pivoted to Decoupled Drupal with Gatsby
Learn how Penn State News pivoted to a decoupled and open-source architecture, empowering over 25 of their campus locations and 18 colleges in sharing hundreds of stories daily while maintaining a consistent brand with a reliable, secure, and expandable platform with Gatsby. Led by Mark Shropshire, Mediacurrent Senior Director of Development, and Jim Nourse, Penn State Associate Director of Web Products.
Rapid Drupal Development: Building at Scale with Design Systems
Kicking off a new website project is exciting, but the many steps involved to get to the final product might make you pause. Incorporating design systems into the overall process creates more efficient workflows and presents many advantages for both developers and marketers. In this session, learn how design systems and Rain CMS, a Drupal-based rapid development platform, can be used to streamline web projects.
Live sessions and times
Mediacurrent's Schedule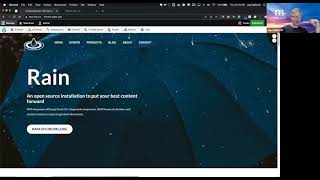 Rain CMS
Rain improves the authoring experience and speeds up the development process. Now shipped with Layout Builder on Drupal 9, the package features a Rain Admin Theme, a content preview with Gatsby Cloud, and our builds feature, working with both Gatsby Builds and Netlify. Check out the faster, smarter way to launch your next Drupal project.
Higher Education Summit
Using Drupal at a college or university? Join us at the Higher Ed Summit to learn about best practices, case studies, and solutions to the unique situations inherent to higher education. During the summit, Mediacurrent Architect Jason Thompson will present a modern redesign, showing how Kettering University put power and control into the hands of their content editors by upgrading to Drupal 9 and using Layout Builder.
Ready to Collaborate?
If you're interested in working with a curious, technical, and intentional team of open source experts, we'd love to talk! Fill out the form to schedule a time to connect with us at DrupalCon or to get in touch with our team about our services.